If you've ever masturbated to ejaculation, you know the answer to this question! In addition to feeling so good, masturbating relieves sexual tension that builds up naturally over time.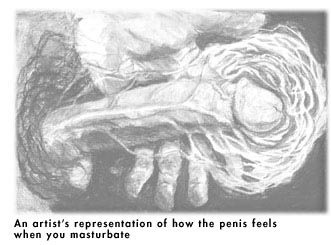 Just about every male in his teens or older gets "horny," in which his mind gets preoccupied by erotic (sexy) thoughts. This is a natural process: Your sex organs produce and accumulate semen, and your body responds by causing you to want to ejaculate the semen and make room for more semen. One way this happens is through a nocturnal emission or "wet-dream" – an ejaculation during sleep. Another way is through masturbation. (Guys who masturbate regularly often don't experience nocturnal emissions.)

Have a question about nocturnal emissions? Go here.

Important to know! Despite what you may have heard (either through rumors from friends or from older people), masturbation is completely safe. It does not affect the size of your penis. It doesn't cause your penis to curve when it's erect – actually, few penises grow to be perfectly straight. It doesn't affect your ability to have children later on. It doesn't stunt your growth. It doesn't cause testicular cancer. Masturbation is a great way to practice for intercourse when you're ready for it and have met the right person.