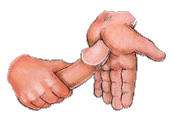 With some kind of lubrication, rub the tip of your penis head against the palm of your other hand. The resulting orgasm will be very powerful.
Variations:
ROSY PALM & BLANKET
Lie in bed with a soft blanket on top of you; hold your penis with one hand and stick it straight up so the head is touching the blanket. Then with your other hand go outside (on top of) the blanket and try the Rosy Palm technique through the blanket. You don't need lube; all you feel on your penis head is your soft blanket. You might not be able to continue this for long because of how sensitive your penis head can become.
ROSY ARM
Instead of rubbing your penis head on your palm, rub it on your forearm. You don't need lube, and it's softer than your hand.