Here's an idea for a device that will get a guy off like mad when built and used properly. It's a really powerful vibrator for all intents and purposes.

Here are the materials needed to make it:

* A hobby-type motor, like the kind you can get you get from Radio Shack; suggest 12-volt variety
* Electrical tape
* A cable clamp, like the kind you would use to make a loop at the end of a stranded cable. These have a U-bolt, a solid metal piece, and some nuts; they're available at just about any hardware store. This needs to be a really small clamp, as it has to clamp to the motor shaft, which is rather thin. Get the motor first, and take it with you when you get the cable clamp to make sure it fits.
* Some more nuts that fit the threads of the cable clamp (see pictures, below) * A flat, reasonably hard, relatively strong "plank" to put everything together on. I used a piece of an old ruler made out of some very flexible plastic, about 1/8" thick, 1.5" wide, and long enough to do the trick. In most cases, 5 to 6 inches is enough. You want the rotating part to clear your penis when in operation.
* Some thin wire
* Soldering iron to attach wire to motor
* Cable tiedown straps (the Velcro kind)
* Some really soft Kleenex, quantity 2

Here's how it works: Attach the wires to the motor terminals. Attach the cable clamp to the shaft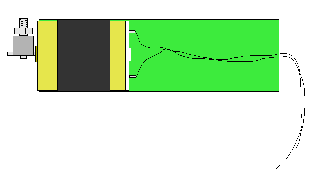 and tighten it enough for it to stay put – but not so much that you damage the clamp or shaft. Add more nuts to the threads to add more offset weight. Tape (tightly!) the motor to the end of the "plank," and tape the wire down the length of the flat surface. You should have something that looks similar to the pictures.

To use: Obtain a variable DC power source (train transformer, power supply, etc). Take a Kleenex and wrap it around your erect penis, the way paper towels go around the roll. Fold the other kleenex over and make an "apron" for your testicles, to protect them from the shaking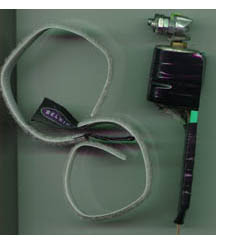 bottom part of this contraption – otherwise they might get banged around or scratched up. Put the device along the underside of your penis, and attach it with two Velcro straps – one near the base and one just behind the motor. Make sure the end of it clears your penis head, as the cable clamp will be whipping around and around, and will hurt if it hits you. Be careful not to put tension on the wires with the straps, as that may lead to premature failure. Attach them to the power supply, start off slow, and enjoy!

You can vary the sensations by varying tension on the Velcro straps, as well as by varying how much power goes to the motor.

By the way, I'm currently designing a motor speed control for this thing that will make speed variation easier using a fixed voltage power supply. That's much more complicated than the original design. Also possible: a biofeedback monitor that controls the motor speed/vibration intensity.